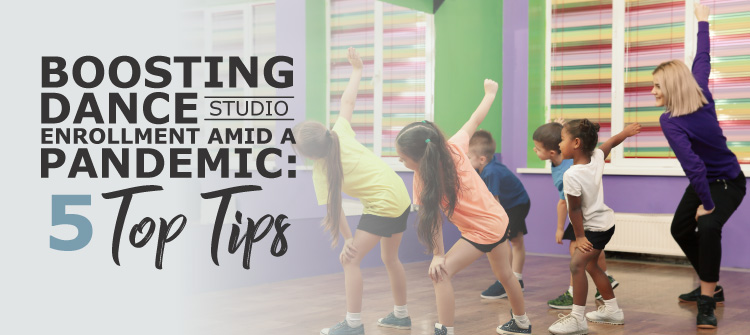 Boosting Dance Studio Enrollment Amid a Pandemic: 5 Top Tips
It's been a few months since the initial outbreak of the COVID-19 virus and social distancing guidelines are still in full effect. Whether you're just starting a new studio or you have an established dance school in your community, the current pandemic has probably heavily impacted your business. 
More than likely, enrollment at your studio has either come to a halt or dropped considerably. Even further, some of your current students may have pressed pause on their engagements due to financial or health constraints. And because your studio revenue is significantly derived from student tuition and other class fees, this can cause some serious problems for your business.
At DanceStudio-Pro, we know that keeping your business afloat during a time like this can be difficult. Luckily, we have experience working with all sorts of dance studios and can offer unique insights into the best ways to maintain effective student management even in a crisis. Let's walk through these five tried-and-true tips for boosting enrollment at your studio during a pandemic:
Invest in high-quality dance studio software.

Offer unique virtual dance classes.

Craft a strategic marketing plan.

Ask for referrals from current customers.

Position yourself against competitors.
These powerful techniques can help you retain current students while also reaching out to prospects and bringing in new business. Are you ready to jump in? Let's get started.

1. Invest in high-quality dance studio software.
As noted in DanceStudio-Pro's guide to powerful dance studio software, the tools and technology in any studio's arsenal can make or break their success. These resources dictate whether your school is viewed as a modern, state-of-the-art facility or an outdated and old-fashioned substitute.
Here are a few key features to look for in any dance software consideration:
Scheduling tools:

Make sure students or parents are able to quickly and easily register for classes. It's a good idea to provide an online calendar of your offerings, so customers can browse and sign up for the ones they'd like to participate in.

Communication capabilities:

Whenever there's an update or scheduling change, you shouldn't have to reach out to every parent and/or student separately to keep everyone on the same page. With powerful communication tools, you can send out pre-written texts, notifications, or automated phone calls to all students, or those within a particular class.

Payment management:

With the right software solution, you'll no longer need to worry about chasing down and collecting checks and cash payments. Instead, parents can easily and securely make payments online and set up regular payments for recurring charges.
Plus, getting up and running with the right software is easier than ever. For example, Beyond Dance Consulting provides a simple solution for dance studio software installation, including DanceStudio-Pro and other top providers. 

2. Offer unique virtual dance classes.
If your studio doesn't currently offer virtual dance classes, you're likely missing out on a substantial portion of revenue. Prior to the pandemic, many of your students would likely be willing (and excited!) to participate in online renderings. Going forward, both during and post-pandemic, these can continue to be powerful tools for any studio.
The transition from in-person to virtual offerings is a big one, but it's something that can provide significant value to your business during a difficult time. For a closer look at pivoting to virtual events and activities, check out this guide with tips and tricks for keeping your audience happy.
Most virtual dance classes fall into one of the three following categories:
Live group classes:

This option most closely resembles typical, in-person dance classes. An instructor will teach a group of dancers in real-time, providing opportunities for face-to-face interaction through intuitive live-streaming tools.

Live individual lessons:

Also using real-time streaming technology, this offering allows students to sign up for one-on-one sessions with an instructor. This is a great opportunity for students to ask questions and receive structured assistance at a safe social distance.

Pre-recorded content:

Providing an option for prerecorded dance classes is a great way to cater to students who may have irregular or unpredictable schedules. This way, individuals can access content on-demand and do their learning whenever it's most convenient for them.
For streamlined user experience, these classes can even be accessed through a dedicated dance studio mobile app. This way, students can partake in available virtual resources at their own convenience, from wherever they are.

3. Craft a strategic marketing plan.
The way you market your dance studio is crucial. After all, your marketing materials are often the first impression you make on new students and potential customers. A bad first impression can be all a prospect needs before they move on to another alternative. On the other hand, a positive impression can send potential students further down the conversion funnel.
As you craft your marketing plan, be sure to keep these best practices in mind:
Utilize social media platforms.

Social media networks are a great way to get the word out about your dance studio and reach out to prospective students. One of the top benefits of social media, as opposed to traditional marketing tactics, is the opportunity for interaction. For example, if an individual comments on your post asking about the availability of virtual classes, you can easily respond and send them additional information.

Leverage eye-catching visuals.

Dance is a very visual activity, so it makes sense that your marketing materials should be very dependent on effective illustrations. For example, you may consider including photos and videos of previous dance students and classes to show your studio in action.

Emphasize student testimonials.

Speaking of the power of previous students, you may also want to collect brief quotes and testimonials from dancers and their parents explaining why they love your studio so much. This gives prospects a deeper look at your studio by showing successes seen by other students.
According to AccuData's guide to effective data marketing, data-driven marketing strategies tend to result in 5 times higher ROI than general marketing campaigns. For example, if you know that your studio typically caters to a particular demographic based on previously collected data, you can narrow your marketing and outreach efforts to a specific target audience. 
This way, your marketing campaigns can focus on the individuals who are most likely to join, rather than wasting extensive time and effort on unqualified leads.

4. Ask for referrals from current customers.
Although digital marketing tactics and other promotional strategies can be effective for bringing in new qualified leads, sometimes your best resources are your current students and their families. That being said, it's often a resource that is significantly overlooked.
If your studio offers classes for a particular age and/or skill level (i.e. elementary-aged students with little or no dance experience), it's a good idea to encourage the current students in those classes to invite their friends. More than likely, your first-grade dancers have many other first-grade friends who may be interested in joining. Similarly, your first-grade parents may know of more first-grade parents who would like to register their children.
You may want to consider offering unique incentives for referrals, such as $X off a dance class for either the student who made the referral, the new student joining, or both!

5. Position yourself against competitors.
Most likely, you're not the only studio that exists in your local community. All along, you might have been competing with other dance schools in your area, fighting for limited business. However, now is the time to really make your dance studio stand out.
For example, perhaps you're the only studio in the area that has moved to virtual dance classes. That's a great point to emphasize in all of your marketing and outreach efforts because it effectively demonstrates what makes your studio better than the alternatives.
Here are a few other ways you can effectively set your studio apart as the top choice:
Competitive pricing

A long history of success

Unique types of classes

Well-respected instructors

A variety of genres offered
A great place to start is with your dance studio website. This is your most crucial marketing tool because it's often where students, parents, and prospects go to learn more about your studio and the services you offer. 
Take the time to update and optimize your site for both user experience and content improvements — and don't be afraid to point out how you're the best!
By taking these established dance studio best practices and running with them, you'll be able to set your studio up for greater success even in a difficult economic environment. 
The next thing you know, you'll have new students registering, existing students returning, and incoming leads in droves. Good luck!
Tiffany has been involved in the dance world at many levels – as a dancer, a dance mom, a studio manager, a virtual assistant to studio owners and now as the Customer Service Manager for Dance Studio Pro. She is the mother of 4 and lives in Southern California where she enjoys working remotely to support the users of the World's Best Dance Studio Software. 
A decade ago, when her girls wanted to dance competitively she went to the studio owner to offer her skills in administration and knack for setting up and managing apps that would make that Studio Owner's life easier. 
After researching all the options she discovered DSP and became an expert user – fast forward to the present, she has been with the company for a year and a half and she is thrilled to be a part of the constant improvements in technology that help us all connect around the art of dance. 
Learn more about what Beyond Dance Consulting can do for you