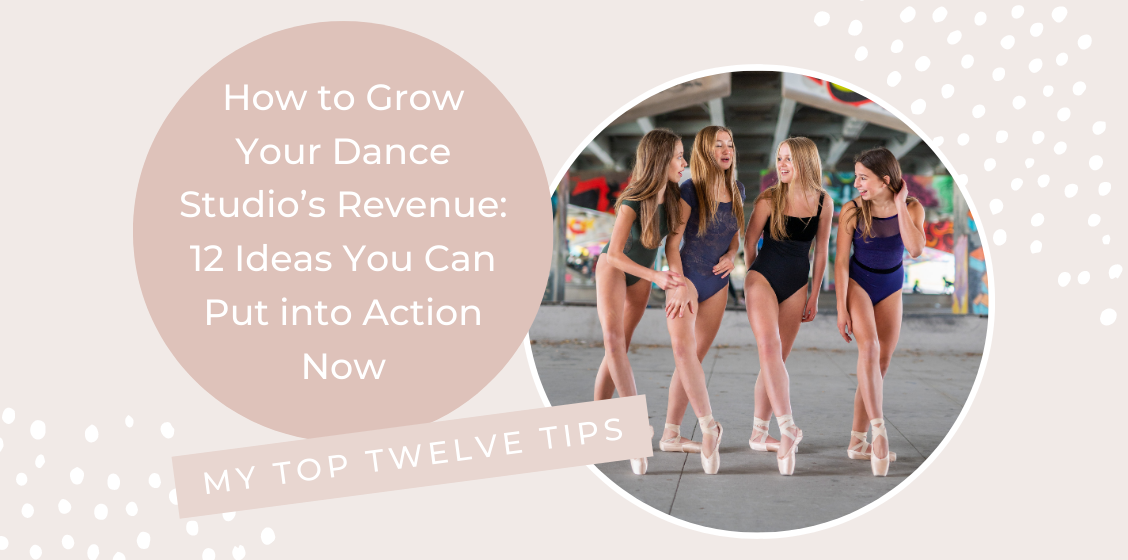 How to Grow Your Dance Studio's Revenue: 12 Ideas You Can Put into Action Now
Welcome to our dance studio's revenue growth guide! In this article, we'll explore twelve actionable ideas that can help you boost your dance studio's revenue and make it stand out from the competition. Let's dive in and discover how you can take your dance studio to new heights!
1. Differentiate Yourself from Other Studios
To truly stand out in a crowded market, use authentic branding that showcases your own dancers. Avoid stock photos and highlight the uniqueness of your studio's talents. This approach will help your studio make a memorable impression.
2. Grow Your Staff from Within Your Studio
Nurture your students' potential by training them to become instructors. This not only maintains your teaching style and philosophy but also creates a sense of continuity and consistency. By having a team of instructors who've been shaped by your studio's values, you can manage the studio more effectively.
3. Versatility: Host Events & Parties
Diversify your revenue streams by hosting events like birthday parties & open house. Not only do these events bring in extra income, but they also serve as a platform to attract potential students. Offering a free dance class as a prize during these events can entice newcomers to try out your studio.
4. Offer Day Camp & Spring Break Camp
Make the most of school breaks by organizing day camps and programs. These initiatives attract a different clientele and provide an additional source of revenue during off-peak hours. Camp participants who enjoy the experience are more likely to enroll in regular classes, boosting your studio's enrollment numbers. These camps can be an essential part of your studio's growth strategy while providing a fun and educational experience for participants.
5. Partner with Schools and Other Organizations
Forge partnerships with local schools and community organizations. Building a strong presence in your community not only enhances brand awareness but also drives referrals from satisfied participants. Partnering with schools and organizations can lead to increased visibility, credibility, and mutually beneficial opportunities for growth. These collaborations can enrich your studio's offerings and contribute to its long-term success.
6.  Paid Marketing and Social Media Approaches
Google Ads are great for capturing users actively searching for what you offer, while social media ads are valuable for building brand awareness, engaging with a wider audience, and leveraging visual content. Users searching on Google often have a higher purchase intent compared to social media users who might be casually browsing. This can lead to better conversion rates from Google Ads. The choice between the two depends on your goals, target audience, and the nature of your business. Often, a combination of both can yield the best results.
7. Selling Merchandise
Introduce branded merchandise and uniforms for your dance team. This not only fosters a sense of unity but also serves as a revenue stream. Make the merchandise available exclusively through your studio. By offering and selling uniforms in your dance studio, you create a more professional, inclusive, and consistent learning environment while also providing convenience for students and parents.
8. Wait Lists: Technology for the Win
Utilize waitlists for high-demand classes to ensure maximum class attendance and satisfaction. Incorporating technology to manage drop-ins and waitlists in a dance studio can bring several benefits that streamline operations, enhance customer experience, and boost efficiency. Waitlist automation helps fill empty spots quickly, optimizing class occupancy and maximizing revenue potential.
9. Facility Rentals
Monetize your studio space by renting it out for workshops, events, or rehearsals. This simple strategy can add a significant boost to your revenue without requiring extra effort. Facility rentals introduce the studio to a wider audience, including individuals, groups, and organizations that may not have been familiar with your studio otherwise.
10. Customer Experience & Online Reviews
Harness the power of positive customer experiences by encouraging satisfied students and parents to leave online reviews. Word-of-mouth referrals are a powerful tool, and online reviews act as a digital version of that. By actively focusing on customer experience and encouraging positive reviews, you can manage and counteract any negative feedback that may arise.
11. Loyalty Program
Implement a loyalty program to reward your existing students. By providing tangible benefits and rewards for ongoing engagement, you create a win-win situation for both your students and your studio. A referral program, for instance, can incentivize current students to refer friends in exchange for credits on their accounts.
12. Private Lessons and Skills Training
Offer private lessons for those seeking individualized attention or skill improvement. This is especially beneficial for students who join your programs later or wish to accelerate their progress. Private lessons can help optimize studio space and instructor schedules. They can be scheduled during off-peak hours, making better use of resources and generating income during quieter times.
By incorporating these twelve strategies into your dance studio's business plan, you'll be well on your way to boosting revenue, enhancing customer satisfaction, and creating a memorable and successful dance studio that stands out in the competitive world of dance education. Take action today and watch your studio thrive!
Engaging with creative individuals and dance studio owners is a source of pure enjoyment for me. I find great satisfaction in delving into challenges and uncovering innovative solutions that cater to their unique needs. Whether it's collaborating on projects or addressing operational concerns, the process of finding these solutions brings me a sense of fulfillment and drives my enthusiasm for what I do.
Tracey Chamberlain, Author
Learn more about what Beyond Dance Consulting can do for you