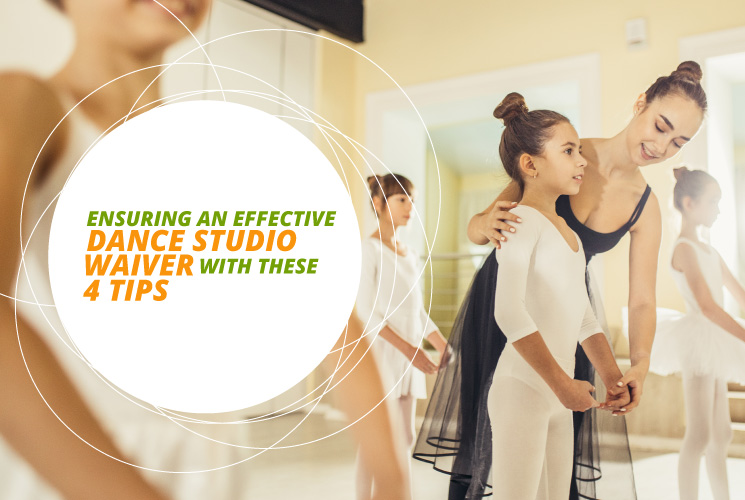 Sometimes injuries are unpredictable. So what happens when one of your dance students gets hurt while at your studio?
Whether you're just starting out in the dance industry or you run an established studio, it's important to look out for the wellbeing of your business in everything you do. One of the best ways you can do that is with a dance studio waiver. These legally binding contracts are completed by participants (and/or their parents, depending on their age), require signers to acknowledge specific risks, and release your business from liability if something goes wrong.
It goes without saying that you'll do everything you can to keep your students and guests safe. However, without this type of agreement in place, you risk your dance studio going down as a result of an unfortunate accident—and you certainly don't want that.
Here at Smartwaiver, we know a thing or two about waivers and protecting all sorts of businesses and organizations from liability. We also understand the importance of adopting the most effective waivers possible, so we've put together this quick guide to help steer your dance studio in the right direction.
Specifically, these four best practices can help set you up for long-term success:
Integrate your waiver with your website and existing software.

Incorporate parent/minor relationships.

Consider the effects of COVID-19 on your waiver.

Take advantage of auto photo capture functionality.
Whether you're creating your first waiver or you've already designed dozens, these tips work for any dance studio and can help ensure your waivers are foolproof. For example, imagine you operate a local dance studio for youth aged K-12 called The Dance Factory. You've had issues with dance studio waivers in the past in the form of complaints from parents, additional effort for your staff, and concerns about the legal standing of your forms.
Luckily, you're ready to learn more about creating an effective yet easy-to-use dance studio liability waiver with these tried-and-true tips. Let's get started!

1. Integrate your waiver with your website and existing software.
Although you may have required paper forms in the past, there's a new trend on the rise that has the potential to bring any business's waiver-signing process to the next level: online waiver software. Not only does this tool provide simpler management for your team, but it also ensures a streamlined signing process for parents and dancers alike. 
What's more, you can make sure your digital waiver platform integrates seamlessly with any other online tools you have—such as your website, communication platforms, or dance studio management software. 
When you make your dance studio waiver readily available on your dance studio website, your customers can sign virtually when it's convenient for them. Users can sign from just about any mobile device or computer, and they don't even have to be on-site at your studio!
You might also want to look for an online waiver platform that integrates with any online registration, communication, or dance software you might already be using. This way, you can incorporate your digital waiver into your online registration process. You can even send out automated texts or emails directing recipients to your online waiver platform to sign.
For example, let's say a new family registers their two children online to take classes at The Dance Factory. You don't have to wait for them to sign their liability waivers during the first week of lessons, eating into their dancers' limited learning time. Instead, you can direct them to your online liability form straight from your registration page, ensuring all of the required paperwork can be completed ahead of time. If they choose not to sign at the time of registration, you can even send a reminder text message or email in the days leading up to the first class.

2. Incorporate parent/minor relationships.
Many dance studios cater to minors, so it's important to look for a waiver-signing solution that provides a streamlined process for parents or guardians and their children. Especially if a parent has more than one child participating, signing multiple waivers can be an unnecessarily time-consuming process when a lot of the information overlaps between individuals within the same household.
That's where online waivers and digital signatures come in. When you find a digital waiver platform with intuitive parent-minor relationship functionality, you can speed up the process significantly. Then, the parent can complete a single liability release form and add any number of minor participants.
Let's imagine the children mentioned in the previous section, Sally and Bobby, arrive for their first dance lesson without first completing their liability waivers. Luckily, their parents can complete a single waiver for both students in just a few minutes so that the students can get dancing in no time. 
This is just another of the ways that online waivers can simplify the user experience. Doing so can make a great impression on your customers—especially because signing your waiver will be one of the first steps they take upon arriving at your studio.
Further, an innovative online solution can even point out potential red flags and automatically bring certain responses to your attention, such as if the minor in question has a different surname than the adult signing for them. This can be extremely beneficial for ensuring the signer actually has the legal ability to sign away rights on behalf of that individual.

3. Consider the effects of COVID-19 on your waiver.
COVID-19 has increased the demand for liability waivers across a wide range of businesses and organizations, including those who have not previously required them. Even if you did have a waiver in place prior to the pandemic, it's critical that you regularly update it to encapsulate changing needs.
For example, many dance studios began offering virtual dance classes to remain afloat amid the COVID-19 pandemic. If that's the case for your business, ensure your dance waiver covers those remote offerings as well. That way, you'll be protected in the event that a dancer gets injured during a virtual class, rather than if you had a waiver that applied solely to in-person gatherings.
For studios that are returning to in-person classes, it's a smart move to mention the risk for COVID exposure and transmission for dancers and spectators when participating on-site. By doing so, you can be sure that participants recognize the increased risk and explicitly release your studio from liability if someone is infected.
However, it's also important to recognize that even the most carefully crafted liability waiver cannot always protect your business in the case of gross negligence. Therefore, it's critical that you continue to follow recommended health and safety guidelines such as requiring social distancing, temperature checks, and face coverings. Even offering a hands-free waiver can help slow the spread of germs.
Picture this: One of your students, Bobby, contracts COVID-19. His family believes he was exposed to the virus while at your dance class. Although his family discusses whether they can sue your studio, they ultimately realize that they had acknowledged and signed away that right upon completing their liability waiver. 
Finally, you might want to look at the benefits that a legal waiver can have on your dance studio's policies surrounding COVID. For example, do you plan on offering refunds for missed classes? Be sure to explicitly state your policies on the topic to ensure there's no miscommunication and ultimately unhappy customers.

4. Take advantage of auto photo capture functionality.
This final tip is one that can only be incorporated with certain online waiver software—but the benefits are huge! If you're looking to solidify the legal standing of your dance studio waiver, automatically snapping a photo as customers sign can make a big difference.
The basic process is as follows: A customer fills out and signs your digital dance studio waiver from an easy setup waiver-signing kiosk (like this one). As they complete the form, your waiver kiosk snaps multiple photos of the signer and automatically stores the images in the customer's digital file. Then, if there's ever a question of who exactly signed the waiver in question, you can pull their picture with a quick search.
For example, imagine Bobby's parents consider going after your studio anyway after he contracts COVID-19. They argue that they never actually signed the legal waiver and that the scribble you have on file can't be proven that it's theirs. Luckily, you can easily locate the photos taken when Bobby's mother filled out and signed his form, and his parents decide to back off without pursuing legal action against your studio. The photo capture feature just saved your studio from unnecessary expenses and damage to your reputation.
All in all, having a dance studio waiver is one of the best things you can do to protect your business from a wide range of liabilities. It's critical that you put the time and effort into developing an effective waiver to ensure it provides a streamlined user experience and will hold up in court if need be.
By integrating with your existing technology, incorporating parent/minor relationships, adjusting your waiver for COVID-19, and leveraging photo capture functionality, you'll be all set even if something goes awry. Good luck!
Daryl McCarl is the Director of Business Development at Smartwaiver, the leading digital waiver service trusted by thousands of organizations around the world. www.smartwaiver.com
Learn more about what Beyond Dance Consulting can do for you