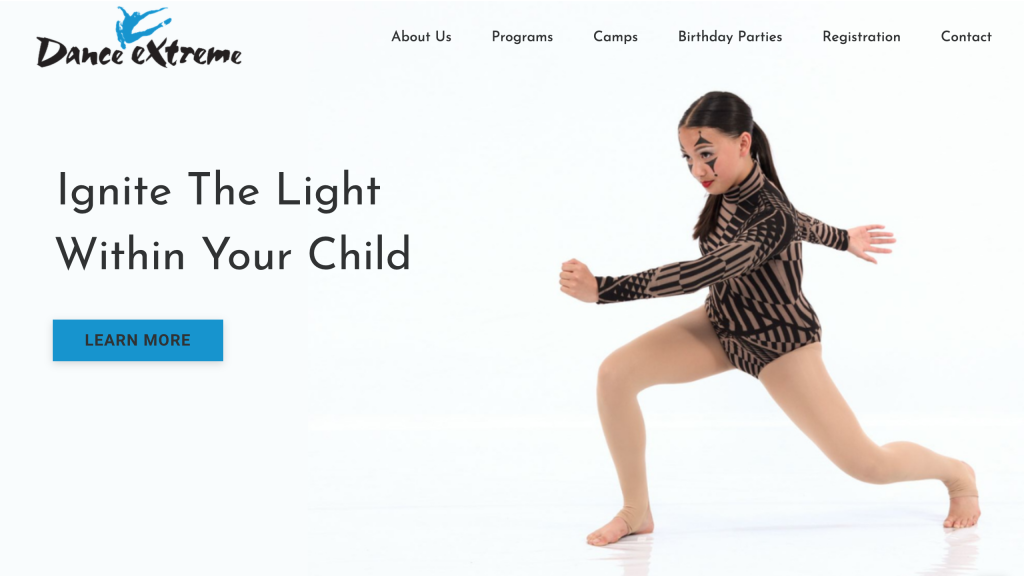 Create A Professional Dance Studio Website
A good website is a great way to show off your dance school's classes, teachers, facilities, promotions, and other important information that will convince readers that they should visit your dance school.
Even when parents hear about your studio through word-of-mouth, they want to check out your website to get a feel for your dance studio. This is an important aspect of pre-selling: if they like what they'll see, they might very well drop by or schedule a trial class. By then, the chances of the student signing up for a class are very high.
Here is a checklist of important ways to optimize your website:
1. Mission Statement
Using a well-written mission statement lets visitors know exactly what they will be getting if they register with you, by telling the visitor what you do and why you do it.
2. Mobile Friendly
Having a mobile-friendly site used to be a "should have," now it's a "must-have." On April 21st, Google updated their mobile search rankings algorithm. Mobile-friendly web pages will now rank higher in mobile search results versus non-mobile-friendly pages. There's a reason Google did this. They want the user to have a good experience when they land on your website. If you have a site that has tiny links and the site is hard to navigate, people are not going to want to stay on your site.
3. Call To Action
The call to action, or CTA, is huge. You've got your users on the site, they're interested, now what do you want them to do? Tell them!
4. Increase Your Website Speed
Do you remember how you reacted the last time you tried to visit a site and it wouldn't load? Like most people, you probably exited the tab and moved on. If your site load times are slow, it won't rank high in search results. Not to mention, the customer experience won't be positive if your site isn't up and running in seconds, three seconds to be exact. For every second longer that goes by, your abandonment rate will skyrocket, leaving unhappy customers. To improve your page speed, start by compressing all your images before loading them onto your website. Image file size is one of the leading causes of slow page speed — using plugins for your website like Smush can help you dramatically speed up each webpage. To check the speed of your website use a tool like Pingdom.
5. Use Your Images, Not Stock!
When people first visit your site, they can easily pick out a generic stock photo they've already seen elsewhere or that resembles the non-personal style of stock photography. Using stock photography can decrease trust and also stand out as generic and non-unique. While stock photography can be high quality, it fails to create a connection between the user and the brand. Ultimately, no stock photography will be as capable of conveying your brand, and services, the way that you want to. Only your own actual images can do that while also speaking clearly to your potential customer. Use images strategically and place them in your website to support the content and allow the users a visual break from the text, but make sure they are relevant and non-generic.
6. Optimize Your Website For Search Engines
Search engine optimization is the art of optimizing web pages for search engines, so your website will show up when people are looking for your services. Make sure that you create different pages for each kind of dance class you offer (e.g. "ballet classes", "hip hop classes"), and optimize these to earn free traffic from Google and Bing. This usually is the marketing strategy with the highest return on investment, as you won't need to pay for advertising and the optimized pages will provide highly interested prospects to your dance school for years to come. 
7. Website Maintenance
With regular website maintenance, your site will run smoothly. Ongoing addition and modification of keywords and website con­tent are necessary to continually improve search engine rankings so growth is continuous. You also want to review your information and ensure that you are up to date and are relevant to your families. Internet trends and technologies are constantly evolving and your business continues to grow, you need to ensure your website evolves with the changing demands of your clients.
Need help on how to build a website?
Are you stuck with starting your own website? Don't worry – you don't have to be an expert in everything in order to start a successful dance studio. There's help out there. I'll be happy to get you off to the right start. Give me a call and let's see how we can make your dance studio dream a success!
I love working with creative people & finding solutions that greatly impact their lives. It's my passion and dream.
Learn more about what Beyond Dance Consulting can do for you